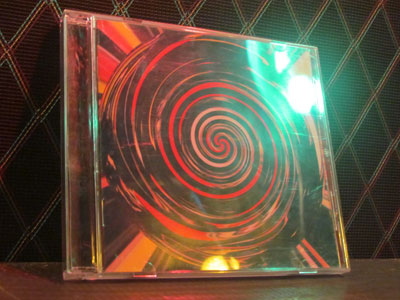 Rhythm Cargo is my third album, and my first to feature guitar on every song. It was released in 2008, and carries over some of the jazz & electronica elements of my previous album, Royal Nights, but also adds a new element of guitar rock, making this probably my most diversified album.

My previous two albums were mainly recorded on my keyboard sequencer, then transfered over to my digital recorder/mixer, but this album was my first to mainly be done on the recorder. Breakz & Easy were both finished on the keyboard right after Royal Nights, but I went back to them and added the guitars while recording for Rhythm Cargo. Electric Gia was a take off of my previous song, Gia, from my earlier classical album, Madrona, and was way beyond my skill at the time, but this was an ambitious album, and not the only time I took a risk on it. Tunevent was a song I had started a year earlier on, but couldn't finish; not until a new guitar & amp - that was what I needed, (along with the decision to add keyboard to it), to get it done, and I still think it is one of my best songs. Other than that, all the songs were new, and were whatever genre they ended up being, with nothing off limits.

This album mainly happened this way because of two of my most important purchases; that new guitar & amp I mentioned. I already had a couple of good guitars (later turned great), and a high-end amp (later turned crap), but these two new ones fit me perfectly, and they are still the basis for my recordings today.



Use the "Download Sample" link to save individual song samples to your computer.
Individual song samples are 320k mp3's, and are about a minute in length.
The "Download" link is a 320k mp3 song, and is all 13 album samples edited together into one big track.


Disc 1




(All samples together as one song file - 28mb / 12min 14sec)




Disc 2



| | | |
| --- | --- | --- |
| 1- Thundercover (Single Version | 2- OK (Single Version | 3- Rock Holiday (Single Version |
| 4- CC Pop (Single Version | 5- Emerald City (Single Version 1 | 6- Sunset (Single Version |
| 7- Electric Gia (Single Version | 8- Tunevent (Split 1 ((Single Version | 9- Tunevent (Split 2 ((Single Version |
| 10- Breakz (Single Version | 11- Easy (Single Version | 12- Time Bomb (Single Version |
| 13- Mind Kicker (Single Version | 14- Space Hum (Single Version | 15- 666 (Single Version |
| 16- Tunevent (Album Version Unsplit | 17- Emerald City (Single Version 2 | 18- Tunevent (Single Version Unsplit |


Please do not upload, file share, provide a direct link to a music file,
(or anything else along those lines for these song files), without permission. If you wish to share any of these song files online,
please do so only with a link to this entire page, or contact the artist first.
Thank you.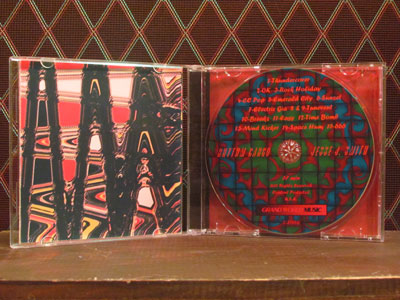 Album Description
Instrumental Rock, Jazz & Electronica.
This 3rd album contains a wide assortment of songs, and is quite diverse. Guitars & keyboards play an equal role, and tracks are just about evenly split between guitar-rock, jazz, and keyboard-electronica, with no compression or EQ changes (so EQ your stereo to flat when possible).

The second disc is set to the same track order, but with shorter song lengths, and changes the dynamics of the original album; creating an alternative version to the original that can be played as is, or used to mix your own version of the album. Also note, the single version of Tunevent is cut in a different order, making for an interesting variation.

Album Details:
31 Songs / 33 Tracks
108 minutes total
CURRENTLY AVAILABLE IN DIGITAL FORMAT ONLY
CD PRE-ORDER AVAILABLE

Performed, Written & Recorded By:
Jesse J. Smith

Recording Details:
This album was recorded with an old, high-end, digital mixer/recorder; with Electric Guitars, Electric Bass, Tube Amps, a Keyboard, Wah, Cymbals, Cow Bells, Microphones, Xylophone, Delay, Chorus & Reverb. These songs were recorded primarily between February & April 2008.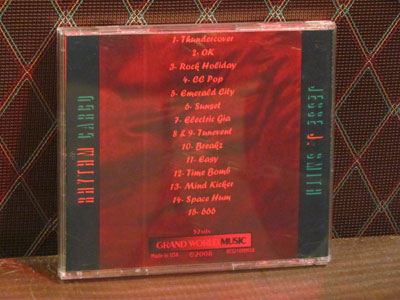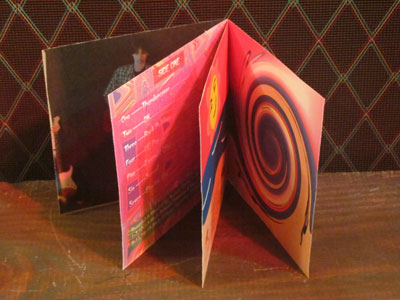 View CD Ordering Information - Plus Digital & Streaming Links

View Other Albums

All Content Protected Copyright 2019-2007© Grand World Music™ / Jesse J. Smith All Rights Reserved